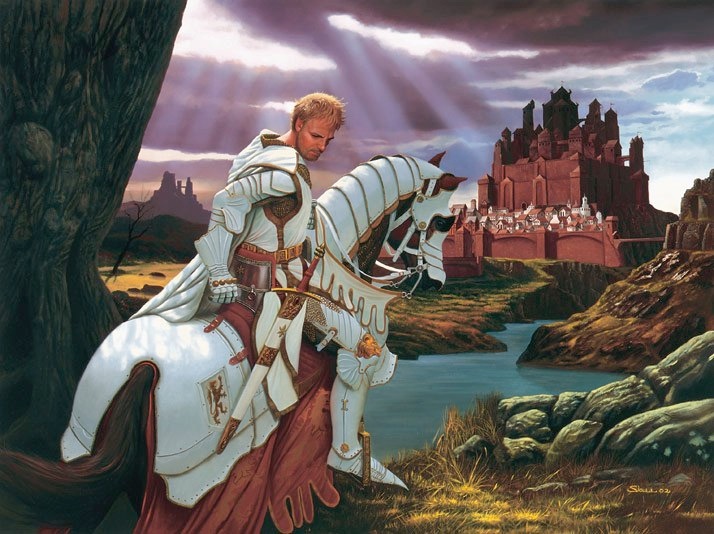 Nice classic fantasy styled art for A Feast for Crows by Stephen Youll
I have had two projects in nerdland this past month. One was reading the fourth book in the Song of Ice and Fire series - A Feast for Crows. I started this book because I had a coworker who was reading through them, and in our discussions of events within, I realized how much I had forgotten from this book. And I also realized that I had skimmed through major parts of both book 4 and 5 in the series. My reason for doing this is that I had been gripped by the plot of the series, and I wanted to know *what was going to happen* So, admittedly, I tore through the books at a faster pace than I could read them.
Having done that, I took it word by word this time, and tried to enjoy the prose. Martin has a distinctive writing style, marked most especially by the high level of detail in his fictional world. These details fill a greater part of A Feast For Crows than the previous books in the series. There is a growing picture of the last twenty years or so, slightly fuzzier picture of the last one hundred years, an abstract vision of the last five hundred years, and after that everything seems to be unconfirmed myth; Stories old Nan tells.
I would love to have a look at whatever timeline Martin works from. Sometimes he's called the "American Tolkein.' and while at first listen, that description bothers me. Perhaps just because I'm protective of Tolkein, maybe because the comparison is too convenient, but I'd like to think it's because their aesthetics are so different that I reject this comparison. Martin is grittier, with a harsher realism and less fantasy, certainly less whimsy than Tolkein. However, after re-reading A Feast for Crows, I may have to change my tune. Martin's painstakingly detailed world is something worthy of that comparison. Lovers of Tolkien have long praised the richness of Middle Earth lore, even before reading the Silmarillion or Book of Lost Tales, the Middle Earth Mythos creates a sense of history in an entirely fictional world. George R. R. Martin has also created a similar sense of history in perhaps a more specific way. I feel that Tolkien paints his world in water colors, whereas Martin paints his world with Legos. Millions of Legos. I enjoy it, and I'm well on my way to finishing the next book: A Dance of Dragons.
Starseed Pilgrim fan art by Hipster Skeleton on Steam
The other project I've been working on this month is that I've been desperately trying to beat Starseed Pilgrim. Yes, it's beatable, and I think I know how. I've gotten close. So very close. Love the abstraction in this game. It's interesting to me that this would be a game set apart from all the other choices I have. Still, it's a game that is best left to the imagination, so I'd rather not spoil it for you. Instead, I'll link you to some pages that reference it. It really is worth playing, just for the first two hours getting to know it, if not the next 98 hours spent trying to beat the thing.
I read a great article on the game called 'The Five Stages of Starseed Pilgrim.' I think this article does a good job of summing it up. The writer calls it a 'fightclub game' - a game you're not supposed to talk about. I hadn't heard that one before, but it more or less sums it up. One final thing about the game is that there is a new game criticism website inspired by Starseed Pilgrim: Starseed Observatory. I just found it, but it certainly looks interesting.
but then I read this article:
http://www.polygon.com/2014/8/28/6078391/video-games-awful-week
I think it's important to remember every so often just how completely some people overreact to Feminist Frequency. It's shocking, and I usually just avoid looking. It's okay to disagree, but so many people throw their credibility out the window with these tantrums. I guess they must really be threatened. Joss Whedon (name drop) weighs in on this one, it's worth checking out if you can stomach the content. Whatever the case may be, I'm still very hopeful for the future of Video Games as a medium. The industry on the other hand... is anybody's guess.
-D