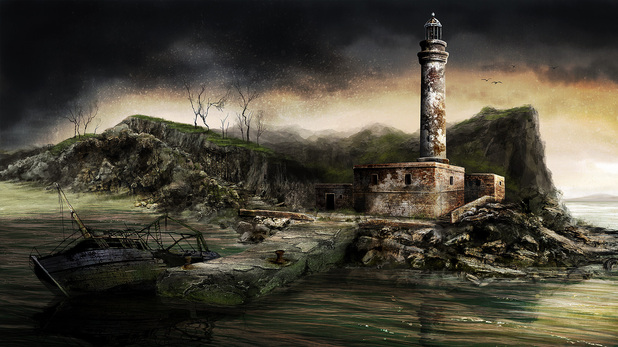 Today, I am posting a stream-of consciousness.
Today, I finally played Dear Esther
Today, I beat Dear Esther (2.4 hrs)
Today, I learned a valuable lesson about patience and follow-through.
Today, when I was playing Dear Esther, I spent the first hour or so struggling with the collision detection. I wanted to walk to places that the game seemed to not want to let me. But it wasn't clear. "This rock seems no larger or more difficult to scale than any other rock. And yet, I cannot pass over it." Alright, fine, I'll swim around. "Which button is to swim? Okay seems to be working, but hey, why am I drowning? Which button was it? I'm pressing that button. What the fuck?! Stop drowning!"
Today, I said, to myself, things such as this: "fuck this game. This game is stupid, I hate this game. I am so pissed off! Raahhhh!"
Today, I asked: why was there no sound? This game is so nice visually, why isn't there any sound?! This is so dumb.
Today, I broke with the writing convention I have been employing.
Okay... I guess I've got it. I'll just keep going on the sort of path-like spaces. Path of least resistance. Just keep moving forward, don't worry about what I'm missing... Well, shit. It looks like I'm actually getting somewhere. That's nice. Lala la, I think I want to explore over here. Dammit... fucking rocks. Oh, hey, maybe I should go over there. Yeah, that's it. Okay... la la la.
Oh wow. That's really pretty. This is pretty damned cool. Finally! This is really working for me. Okay, I see, it makes sense that I can't run or do anything, really. If I moved to fast, I'd miss out on this stuff. Dang, I think this game is kind of like, pretty cool! Still no sound though, what's the deal?
...oh. My headphones were plugged in. ... oops...
...
...
...
Okay, this game is beautiful, I love this game. I have to play it again now, because I missed out on the sound, so like, half the immersion. Oh well, I don't think it's long.
What a great game, I'm going to recommend this to everybody.
...
...
...
So, yeah, I pushed through a lot of frustration to get through Dear Esther. If I had given in to the frustration I felt for the first 30-45 minutes or so, I would have missed out on what turned out to be a great game. Really great game, truly! I can only recommend to people that, during the early part of the game- Don't bother trying to swim. It will only lead to heartache. Also: check to see if your headphones are plugged in.