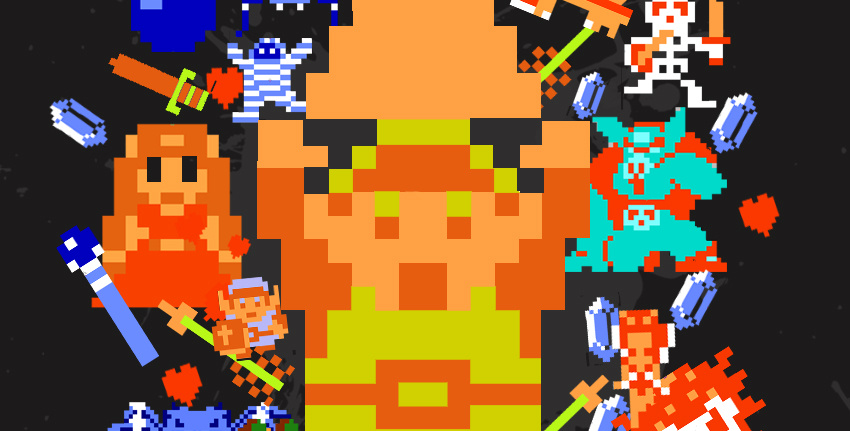 Picture lifted from 'It's Dangerous to Go Alone' kickstarter - look it up!
Zelda Classic is a game editor for the Legend of Zelda. Yes, just like I always wanted. I had heard of it, and unsuccessfully tried to make it work, wrote it off as bunk. I just revisited it, this time with success, and I am thrilled to report that this is for real. Just like I always wanted.
I had occasion to return to this game when a stumbled onto a posting at The Indie Game Source extolling the virtues of Zelda Classic. This post pretty well expresses much of the enthusiasm I feel at the prospect of fan-made Zelda games in the NES and SNES style. The links in the above article are all broken, but you can find them again by searching the Zelda Classic archives.
But actually, I didn't particularly care for the two games I tried from the above article. One thing I've noticed about some of these quest designs is that they tend to come big and kind of overblown. In making my own quests, I want to start small, concentrate on making a fun game, and not an epic journey.
There is a thriving community of Zelda Classic fans, players and designers over at purezc.net. I've just signed up for the forums, and so far have been well received in the community. I was looking for a Classic style game (I'm not really interested in the 16-bit style right now) and I was pointed to a forum contributer who goes by Moosh. I tried out his game "Tale of St. Christoph" and so far I really like it!
There's so much potential in Zelda Classic, I'm very excited. The way I see it is that The Legend Of Zelda was such a great game, that it can be remixed time and again, and still be fun. I'm so glad there is a tool available for the common person to do this.
So far, I've made a small map, which was fun and simple to do and easy to get carried away with. Now I'm working on dungeons, and getting the caves to go to the dungeons- and I got stuck there. I'm following a guide, but it's still tough. But when I've learned a few basic tricks, I'll turn out a couple quests.
Essential Links: (hehe, links)
Zelda Classic
The official website. Download the programs here - The editor is called ZQuest and the player is called Zelda-w (this is important, because if you make the same mistake I did, you'll try to play the games with the editor. No. It's for editing)
Zelda Classic User Guide
Zelda Classic isn't particularly intuitive; a guide is definitely necessary.
PureZC.net
Search the Quest Database at PureZC.net to find a quest to play. I recommend choosing 'mini quests' using the genre menu on the right side.
This... could...be... awesome!
-D